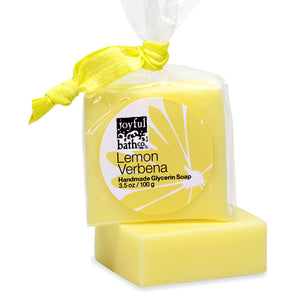 Description

Reviews

Shipping
Our Lemon Verbena Glycerin Soap is the perfect way to start your day. It will help to wake you up and leave you feeling refreshed. It is infused with the refreshing scent of lemon verbena, which will leave you feeling invigorated and refreshed. The soap is gentle on skin and leaves it feeling soft and hydrated.
It is perfect for all skin types, including sensitive skin. The soap is also great for use after a long day at work or on the go. It will help to remove dirt, grime, and sweat, leaving your skin feeling clean and refreshed.
Gentle for face and body and for sensitive skin too. Soo Refreshing!

Infused with the refreshing scent of lemon verbena
Gentle on skin
Leaves skin feeling soft and hydrated
Perfect for all skin types
Handmade
Vegan & Cruelty Free
No SLS or yucky stuff!

 
Ingredients: Coconut Oil, Palm Oil, Safflower Oil, Vegetable Glycerine, Purified Water, Sodium Hydroxide (saponifying agent, Sorbitol (moisturizer), Propylene Glycol (made from vegetable glycerine), Sorbitan oleate (emulsifier, Oat protein (conditioner) Phthalate-free Fragrance, Mineral Color.
Check out what customers are saying:
"The packaging and shipping is beautiful! These soaps are packaged so nicely; it would be perfect for a gift. They're even shipped in these amazing "packing peanuts" which aren't Styrofoam, but dissolve in the bath! They thought of every detail."
We offer $7.99 Flat Rate shipping on all orders up to $74.99 except for AK and HI. Shipping is free on all order $75 and over except for AK and HI. Shipping to Alaska and Hawaii is $14.99 Flat Rate. Please contact us for international shipping.
For most orders we use standard shipping via USPS for 2-3 business days. Some orders are shipped UPS depending on size, weight and address. It could take up to one week for orders to the West Coast. You will receive a notification letting you know when and how your order was shipped. We fill orders quickly because we want you to get your goodies right away!
Please note that while we strive to ship your orders out quickly sometimes delays will occur, plan accordingly or reach out to us if you have any questions. We do not have control over your package once it leaves our facility.
You must intercept your own package by contacting the carrier if you: moved from the shipping address, the address you intended to ship to is no longer active, your recipient is no longer at that intended shipping address, the address you entered on initial order is wrong, you made a mistake on the order, time of delivery is an issue or any and all acts of nature that may delay your package from arriving at the intended address.
Let our customers speak for us